September 7, 2023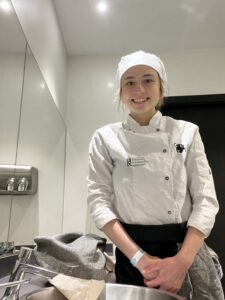 My name is Hallie Anderson, and I am in the class of '24 at University of Missouri studying food science. 
If you would have told me when I was 4 years old putting my first batch of brownies into an easy bake oven that someday I would be across the world taking culinary classes, I would never have believed you. But yet 17 years later here I am reminiscing about my amazing past 4 months in Barcelona, Spain. I have always had a passion for cooking. I started off just being a sous chef for my mom for our family of 4, helped my grandma in prepping all the Thanksgiving side dishes, and took some cooking classes here and there with my fellow 10 year olds dying to learn how to make homemade chicken nuggets. Getting to high school and college I discovered that chemistry was my favorite thing to learn about. This led me to picking food science as my major at Mizzou. I figured this would be a perfect combination of that passion I had always had for cooking and the skill I have for chemistry and hopefully find a career that I love. Through my first 2 years of college, I learned a lot about food ingredients, food safety, and food processing, but I wanted the opportunity to put that knowledge into practice in a kitchen. Through the college of agriculture at Mizzou, they offered a few abroad programs, one of which was the gastronomy program at CETT in Barcelona. The minute I saw this program was available, I knew it was a program I would absolutely love. I had never been to Europe before, and I was so excited to travel to so many countries I had dreamed of visiting. When I arrived to Barcelona, I met my amazing 4 roommates who were from all over the U.S., and were just excited as me to travel and experience Europe.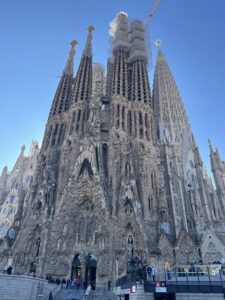 After having orientation at CETT, I was honestly a bit intimidated. I was enrolled in Culinary Techniques and Preparations, a first year course, and World Cuisines, a second year course. The first year course was more entry level, but all my fellow students in the second year course had far more culinary experience than I did coming in. Before my first day, I had to go pick up my knives and get fitted for my official chef uniform. Elena, a member of the SAI staff, met me in the middle of Las Ramblas where she helped me in translating with an older Spanish woman to make sure I was more than prepared for my first day. 
I had worked in restaurants but not in any sort of professional kitchens or had any sort of training beyond practicing at home and following any cooking media I possibly could. The premise of the world food class was that we would get a new country every week and make 5 or 6 dishes from that country for our teacher to taste and comment on. I was very unsure of myself the first week when I was tasked with making arancini for Italy week in my group. We were in the same teams of 4 the whole semester, and the 3 other people in my group immediately calmed my nerves. The 3 of them along with everyone else in my classes were eager to teach me about Spanish food, all while making some very deserved jokes about American food along the way. Week after week I became more confident in how I worked in the kitchen, my knife skills, and my overall understanding of navigating my new life in Barcelona. While learning about the cuisines of other countries in class, I was spending weekends traveling to many of those countries I had learned about. 
It honestly made those travel experiences even more enjoyable. I got to not only taste the food of the country, but think about how much work and tradition goes into the flavors behind the plate. It was as if I got to travel to those places more than once just through the food, because I truly believe food holds some of the strongest culture of any country. I tried foods I never would have expected and got to have those experiences with people I now consider to be some of my best friends. 
Among those trips, one of my favorites was to Salamanca, Spain, to visit my roommate Natalie's family that lives there. The minute we got there, her abuela treated us the exact way grandmas always do, not letting us leave the table until our bellies were full and we had played at least 3 rounds of cards with her. It was so amazing seeing a woman who was born and raised in Spain to share her home with us in such a special way.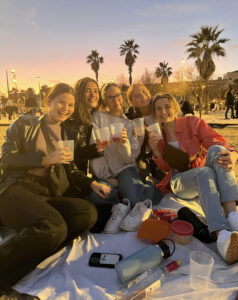 Outside of traveling, my roommates and I enjoyed exploring our new home in Barcelona. Through SAI, we did a winery tour and hike through Montserrat where we met the family who had owned the winery and had been organically farming the grapes for the last 3 generations. We also took pottery classes, cooking classes, boat rides, and walking tours led by the SAI staff who wanted to make sure that being away from home didn't mean we were all on our own. 
As much as it was a leap of faith to move across the world for 4 months without a full understanding of what I was getting myself into, I wouldn't change a thing. I learned to say yes, to believe in myself, and to ask questions. I ended my time abroad with a 10 day solo trip around Spain including San Sebastian, Madrid, Alicante, and Valencia. This trip never would have happened if I didn't build such a great relationship with my world food professor. He handwrote me a list of restaurants and foods I needed to try in each city, and I followed it every place I went. On my last day of class he told me that he hopes I am the person to "bring the Mediterranean to St. Louis." 
As extreme as that hope may sound, after this semester I am not afraid to dream it. 
Written by: Hallie Anderson, spring 2023 Barcelona student from University of Missouri.