December 22, 2016



One of the main things that draws tourists to Florence and Italy in general is the promise of delicious food. From tiny cafés to sidewalk restaurants, Florence has so much to offer in terms of food that it can get overwhelming to decide where to go! While studying abroad in Florence, I had the opportunity to explore the streets to find my favorite places to eat for every meal. While almost every place I tried had fantastic food, these are the places I found myself drawn to time and time again.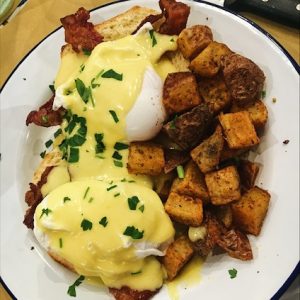 Breakfast is my favorite meal of the day, and while during the week before class I would typically enjoy a croissant and cappuccino at varying cafés, on the weekends I wanted something that was closer to a heartier meal that I would have at home in the United States. I passed Le Vespe on Via Ghibellina every day as I went to class because it was only a few doors down from my apartment. Eventually my friend and I stopped in on a Sunday for their brunch, and I immediately fell in love. I had their eggs benedict and with a side of fried potatoes that was so full of flavor I ate every bite. We both loved it so much we returned the next Sunday and ordered the same things.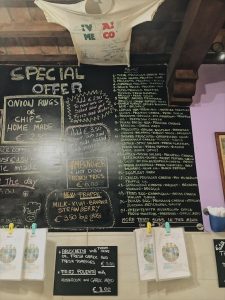 Lunch in Florence for me typically consisted of finding the perfect panini shop. I had heard good things about the Oil Shoppe from other students who had studied abroad in Florence, but I never stopped in until I stumbled upon it walking back from class a different way than my normal route to my apartment. Trying to figure out what to order is the hardest part of eating here! They have so many different combinations of sandwiches possible. They have colorful notecards surrounding the store with numbers and descriptions of their most popular paninis. I have tried multiple combinations of their fresh ingredients and it is impossible to go wrong. Not only is the food fresh and fantastic, the owners are very friendly. Take a minute to stay and chat, and they will remember you with a smile every time you return.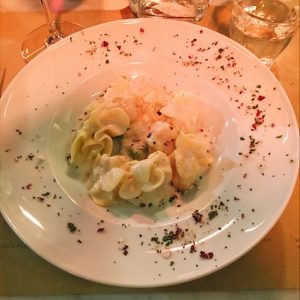 Il Quattro Leoni was a place recommended to my mom and I by a family friend, and while she was visiting me at the start of my time in Florence we had a wonderful dinner here. This restaurant is located in the Oltrarno in its own little piazza. The Oltrarno in my opinion is the best area to find more local food finds than in the Duomo area, and this little restaurant was no exception. This restaurant is good for dinner with your parents if they are visiting or for a group of friends looking for a fancier night out with amazing food. Il Quattro Leoni is becoming more and more popular with tourists, but the owners have not sacrificed their tradition by keeping with their all Italian menu. Although the menu may be hard to interpret, the waiters are very friendly and willing to help translate and make recommendations. Their most famous dish is their pear ravioli, but it is hard to go wrong with anything on the menu. Venture outside of the typical appetizer and try their fried zucchini flowers. I promise they will not disappoint! Also, do not forget to make a reservation to guarantee a table ahead of time!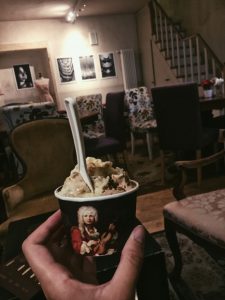 To top it all off make sure to visit Vivaldi's gelato shop also on the Oltrarno side of Florence. Everyone who visits Florence has their own favorite gelato place that once they find it they can hardly stand to go anywhere else. Vivaldi's was that place for me. I tried so many different shops that had great gelato, but once I tried Vivaldi's I was hooked. Gelato is good any time of day, and sometimes I even had gelato for dinner (Shh don't tell). My favorite flavor combination of their gelato was dark chocolate and what they call Vin Santo which is a combination of wine and pieces of biscotti. Order your gelato and then go to the right towards the back of the shop past the sign that says "Chocolate Room Inside." In the back you will find a room with vintage armchairs, couches, and artwork to sit and enjoy the gelato with friends. This is also a great place to come on your own and do homework because this room is usually quiet and has great wifi. A gelato a day is a necessary part of being in Italy and Vivaldi's was one I never got tired of.
___

Miranda Craft
University of Mississippi
I studied abroad this past summer in Florence for the Summer II session at Florence University of the Arts. This program opened my mind to everything this world has to offer, and my experience was one that I will never forget. I extended my trip to travel around Europe, and I made many new connections and life-long friends and travel buddies. This program taught me more than I would have thought both in and out of the classroom. From learning how to live like a local, order in Italian at the café down the street, or just traveling on my own to new and exciting cities, SAI has encouraged me to step outside of my comfort zone and I have found it very rewarding.