June 21, 2023



Living in Milan is nothing like I ever thought it would be. But let me put it this way; I love every minute of it! I have been living in Milan for almost 2 months now while studying at Nuova Accademia di Belle Arti (NABA). Before studying abroad, I had never left the East Coast of the United States, let alone leave the country! This was such a big jump for me. I grew up in a small town in the rural parts of Maryland and I attend a small college in Pennsylvania. All I've ever known is being close to home, and now I am living over 4,000 miles away. I was terrified leading up to this trip, but I don't regret a single thing.

Here are some do's and don'ts that might help for your trip abroad.

Do: Take advantage of every opportunity you have while you are here

I knew that this was the mentality I was going to have while I was abroad but it definitely takes some adjusting to get to this point. At home, I'm used to turning things down and saying no to situations with excuses that are never good enough (my favorites include exhaustion, anxiety, and an abundance of work to do that I probably won't get done). While I've been in Milan, I know I might never get the chance to do these things again, so I jump on every opportunity. My roommates and I have been traveling a lot on the weekends. We've been to Rome, Florence, Genoa, Venice, and more! One of my dreams while being here was to be able to go to Greece. We have been looking at tickets for so long but they have been several hundred dollars every time we look. Just the other day I was checking the prices of places to travel and out of complete and utter luck, tickets were $89. My heart was racing trying to book these tickets in time. We have never jumped on an opportunity faster. The entire world paused as we raced to buy the tickets before the price went up. After a couple of technical errors and some really close calls, ten minutes later we had a trip booked to Athens, Greece. Waiting around for things to happen is going to leave you with so many what-ifs. Don't go home with regrets, take every opportunity that is offered to you.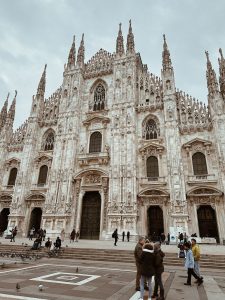 Don't: Seclude yourself from your surroundings. Get involved in the community!
One thing I didn't want to do while I am here was stand out like a tourist the entire time. I wanted to get involved and embrace myself in Italian culture. One way that I have been able to do this is by volunteering. I have been volunteering for an organization called Mutuo Soccorso for a couple of weeks now and I love every minute of it. Mutuo Soccorso started up in Milan during the shutdown of the pandemic and has been growing ever since. Today with over 150 volunteers, they provide hot meals and other essential items to the homeless community twice a week. I have been helping to prepare, cook, and deliver meals with local volunteers as a way to get involved. Not only am I giving back to my community in Milan, but I am learning more and more each time I go. The other volunteers have been teaching me new skills and helping me improve my Italian. Immersing myself in the culture this way has taught me so much and I highly recommend it for anywhere you are.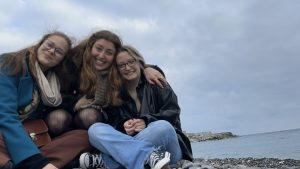 Do: Enjoy all the little things while they're around
Some of my favorite things about living in a new place are discovering all of the little things to appreciate. Milan has so many things that are so different from living in the States that I hope I never forget. One of the first things I noticed after arriving was all of the floral shops on every corner. They are all so beautiful and always brighten my day when I see them. My favorite thing about them though is that they sell lemon and orange trees! I didn't know that they could survive the winter months of Milan but they are everywhere and I adore them. Another one of my favorites is all of the dog parks. I am a dog lover and dearly miss my pups at home, but if I had a Euro for every dog I have seen here, I would have been rich weeks ago! I love that Italians don't go anywhere without bringing their dogs with them; in grocery stores, on trains, and even in restaurants! They really are man's best friends. There are so many other things but these two are definitely my favorite!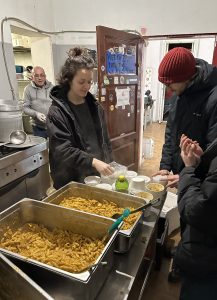 Don't: Miss home too much, you'll be back before you know it!
When I left home, I knew it was going to be hard to adjust to being so far away from all the people I love. Luckily I traveled to Milan with two of my friends from school so things were a little easier. I definitely have felt homesick at some points but I talk to my family and friends frequently which always helps. I am halfway through my semester abroad, and it is crazy how fast it has gone. Keeping myself busy with trips and activities also helps to distract me from missing home. I find that when I keep myself cooped up in my apartment I start thinking about home more, so plan trips and outings to take your mind off of it. Luckily I have made a lot of great friends here in Milan which makes being so far away just a little easier.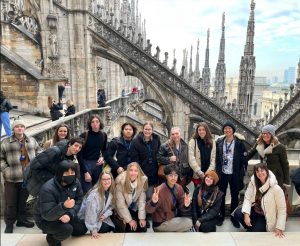 Coming to Milan is one of the best decisions I have ever made. I have learned, seen, and experienced so much already. If studying abroad is something you are debating about doing, this is your sign! Take the leap of faith and do it! Wherever you travel, it will be absolutely amazing and hopefully, some of these do's and don'ts will help.
Written by: Delaney, Spring 2023 NABA Student from York College of Pennsylvania