April 24, 2017



Every year on Easter Sunday, Florence explodes (literally) in celebration, and it's not to be missed. The Scoppio del Carro, or Explosion of the Cart, is a tradition dating back over 350 years that attracts large crowds to the Piazza del Duomo in downtown Florence.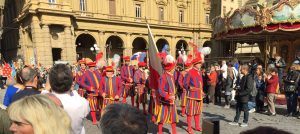 As the story goes, in 1099 a young member of the Pazzi noble family took part in the First Crusade, and was the first to scale the walls of Jerusalem in the name of Christianity. As a reward for his bravery he was gifted three pieces of flint, which are held in the Church of Santi Apostoli in Florence. Upon his return to Florence, a tradition began to light a holy fire with these flints at Easter time, and the modern explosion of the cart tradition evolved from that.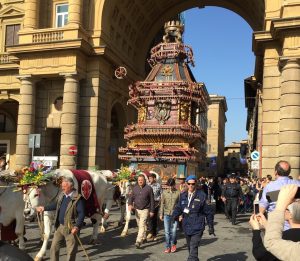 On Easter morning a priest rubs Pazzino's flints together to light the Easter Candle, which is used to heat coals. The coals are placed in a container on the beautiful 30 foot tall antique cart (loaded with fireworks), which is hauled through the streets of Florence, pulled by white oxen. The cart, accompanied by drummers and performers, ends its procession outside the Duomo. As the crowd gathers outside, a priest inside the Duomo lights a dove-shaped rocket that is attached to the cart outside with a wire. When the dove-shaped rocket hits the cart, the explosion begins, and fireworks burst from the cart.
The exhilarating celebration offers a great glimpse into the unique traditions of this Renaissance city.