April 27, 2021



This week's recipe provided by FUA-Apicius students and faculty combines the flavors of the East and the West. The use of curry and cocoa powder adds a creative, international flair to the classic Italian risotto.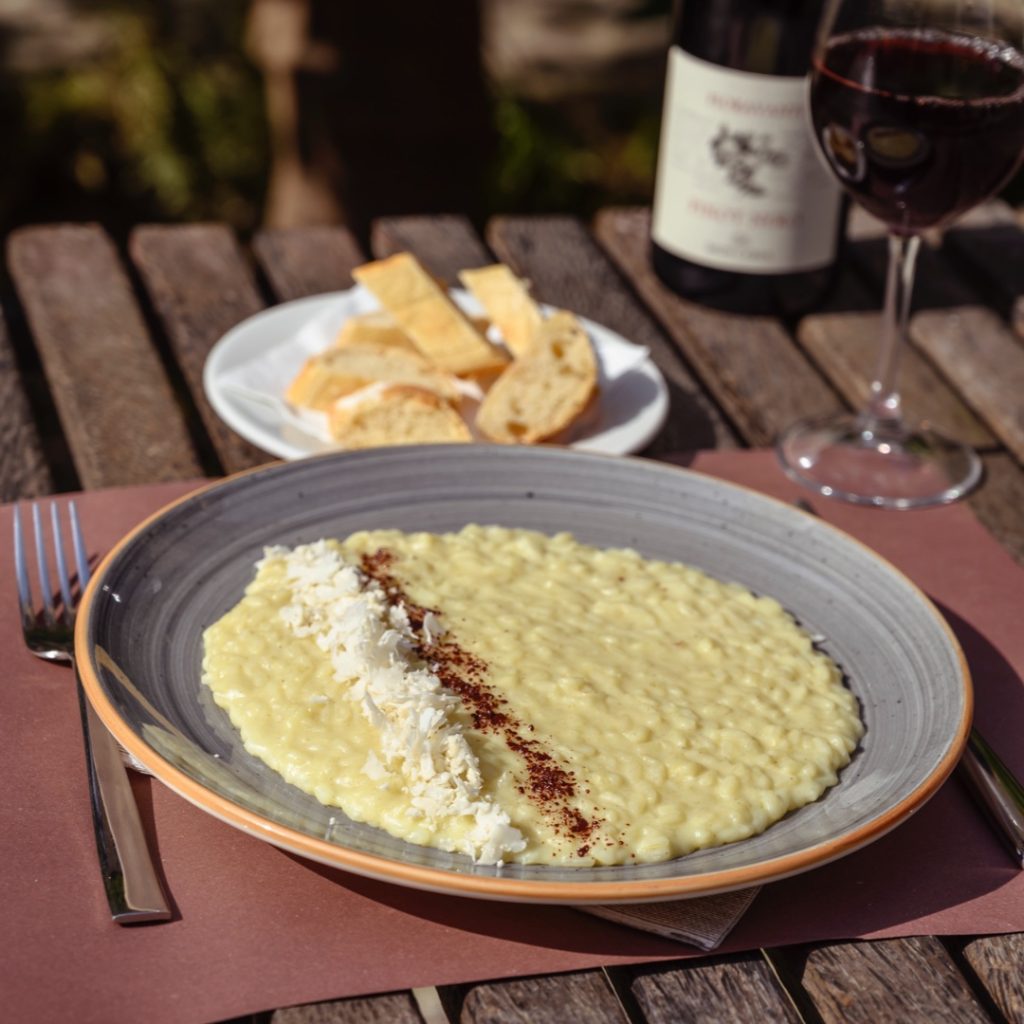 Serves 3
For the risotto:
200g  of risotto rice
75ml white wine
50ml vermouth (preferably Noilly Prat)
1 onion, finely chopped
1 cloves garlic, crushed and puréed
500ml stock/water/liquid of your choice
30ml olive oil
25g unsalted butter
35g Parmesan
Salt and pepper to taste
For the Cauliflower velouté:
225g cauliflower florets
100g raw cauliflower (to grate over the risotto at the end)
1 pinch curry powder
45ml chicken stock (or water)
45ml whipping cream
5ml partially skimmed milk
Preparation:
Soak the cauliflower florets in lightly salted water for three minutes, then drain. Bring the chicken stock to the boil, add the cauliflower and the curry powder, and cook until the cauliflower is soft enough to purée.
Meanwhile, in a heavy-bottomed pan, heat the olive oil until hot and add rice. Stir continuously. The rice will begin to crackle and take on a delicate nutty aroma. When this happens, add the onions, garlic, and 25g butter. Turning the heat down to low, continue cooking for about five minutes. Continue to stir to make sure that all of the rice is coated in the oil.
Add the white wine and cook until reduced, still stirring. Add the vermouth and reduce again. Now begin adding the stock, a ladle at a time. As soon as the liquid has been absorbed by the rice, add the next ladle, always stirring to ensure that the rice does not stick to the sides or bottom of the pan.
After about 18 minutes, taste the rice to see if it is cooked. If there is still too much of a bite to it, add more liquid. If you think that you may be running out of cooking liquid, bring some more to a simmer so that you can use it immediately.
Put cauliflower into a blender and leave to cool for five minutes. Then purée, adding the cream and milk, a little at a time. Pass the purée through a fine sieve and put it into a casserole over low heat. Cook gently for five minutes until the raw cream flavor disappears.
Stir in the cauliflower velouté in the final two to three minutes of cooking time. Add the Parmesan and butter. Stir in the chives and season generously with salt and freshly ground black pepper. At the table, grate raw cauliflower over the dish and dust with chocolate powder. You are now ready to enjoy this original dish!