December 5, 2017



Selecting the perfect gift can be difficult.. Not sure what to get for that person that is always on the go? Luckily, we're here today with a Gift Guide filled with products your fellow traveler is guaranteed to love. Here are 13 gift ideas for the modern traveler!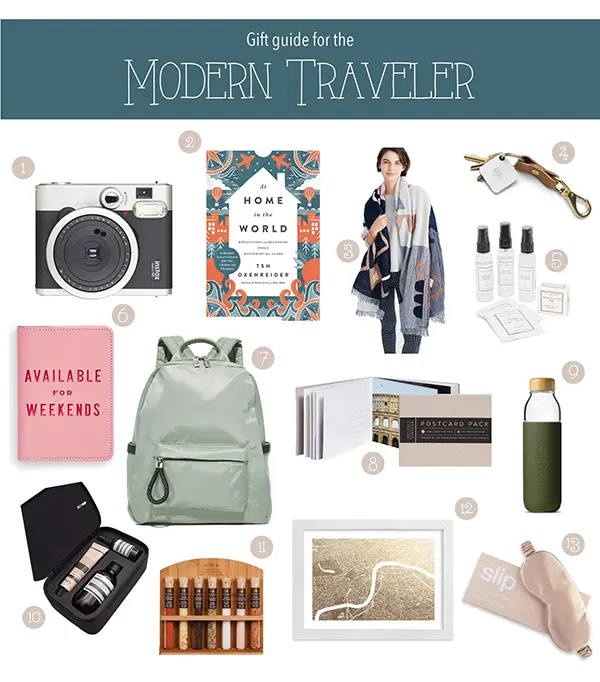 Fujifilm Instax Mini 90 Neo Classic Instant Film Camera, $99
The ultimate travel essential! Capture some of your favorite moments with this camera that's a step ahead of the rest, equipped a smart flash that calculates exposure on its own.
At Home in the World: Reflections on Belonging While Wandering the Globe, $10 – $16
As Tsh Oxenreider chronicles her family's adventure around the world—seeing, smelling, and tasting the widely varying cultures along the way—she discovers what it truly means to be at home. Check out some other travel related books here, here and here.
Madewell Abstract Pattern Scarf, $65
Scarf? Blanket? Both? Yeah, both. The perfect scarf for a chilly walk through the streets of London or just the chilly walk to class.
Tile Mate Key Finder. Phone Finder. Anything Finder, $25
Have a problem keeping track of your things? We have a solution for that! The Tile Mate easily loops onto keychains or attaches to anything you don't want to lose.
The Laundress On The Spot Kit, $34
Traveling with only a few outfits and limited access to laundry facilities? The On The Spot Kit comes with four liquid stain removal packs and stain removal bar soap, as well as spray-on solutions that remove wrinkles, eliminate static, and deodorize clothing.
Available For Weekends Passport Holder $24
A passport cover so cool, you'll want to take it everywhere! It's a must have for every trendy traveler.
Deux Lux Deux Lux x Shopbop Backpack, $50
This is the bag you've been searching for. It makes a fashion statement but is also sturdy and dependable. You can fit all your travel necessities in it and explore in style!
Artifact Uprising Postcard Pack, $30
Did your mom just get back from an epic trip? Use her photos and surprise her with a pack of postcards from her adventures. Or create and personalize them using your own photos and send them to your friends and family around the world!
Soma Water Bottle, $30
Sustainable and stylish.. What more could you ask for?
Aesop Concord Set, $70
This set includes three full size products: a body cleanser, a hand balm, and a facial moisturizer. Squeaky clean. Head to toe.
The Spice Lab Gourmet Sea Salt Sampler Collection, $34
Because every home-cooked meal could use a little something extra. Perfect for cooking when you're on the go!
Alex Elko Design Foil-Pressed Art Print, $30 – $70
Make somebody's day and give them a framed map of their favorite city. Sweet, sweet nostalgia.
SLIP Silk Sleepmask, $45
Wake up from your red-eye feeling refreshed and ready to hit the town. Slip Silk's super soft sleep mask is hypoallergenic and leaves your skin feeling hydrated. It also comes in a variety of colors, and if you're trying to take it to the next level, they also make silk pillowcases!
*Additional ideas located on our Pinterest, here.