January 27, 2023



I can say that this volunteering opportunity has been the greatest learning experience that I could've gained as a student abroad. On the one hand, I was able to practice my Italian by teaching English to Italian children, and at the same time, I was able to fulfill one of the biggest objectives that I had coming to Florence: "immerse myself in Italian culture".

Knowing basic Italian opened my possibilities, and although at first, I was scared, I decided to set this challenge for myself and test my Italian. The possibility of going to a public school and work with both Italian children and teachers was the best way to practice my language skills. I realized that these children as well as teachers and school staff, have a fairly basic level of English, and that is why most of the time they spoke to me in Italian. In this way, knowing Italian facilitated my interaction with them. This situation compelled me to practice my listening skills to understand Italian but also to communicate in this foreign language.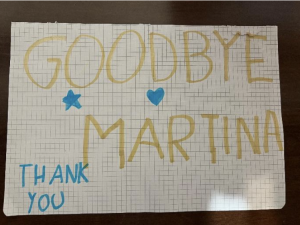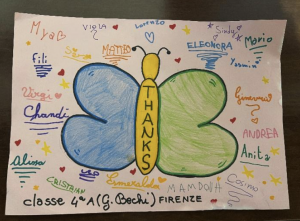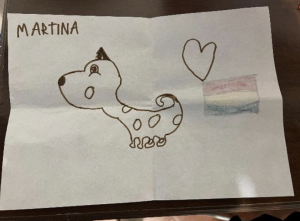 Living one minute away from the duomo, in a completely touristy area and going to a university with mostly American students, I didn't have the opportunity to share with Italians or practice the language (which was a very important goal for me when I came to Italy). In other words, I didn't have a local perspective of Florence. Even though the public school is only 20 minutes from the center of Florence you can see a drastic change of environment and perceive a completely different vibe. I felt like I was in another city, and I felt a bit intimidated because everything was in Italian and all the people were exclusively local.
I must admit that the first day was scary, but the kindness and affection with which the children welcomed me, made me feel in the right place. After each class, these children gave me drawings and asked me if I was coming back. It was amazing to see how the trust that I gave them, and the connection we had, made them want to hug me every time I went to the school. I couldn't stop thinking: these are kids that never saw me before in their lives, but still, they trust me and want to show their gratitude.
I want to share with you one of my last volunteering days; 8:50 am Italian class (student)- 2:30 pm English class (teacher). It was the day where I proved my theory: the best way of learning is teaching. My 6 years old students knew only 3 things in English; to say Good Morning and Goodbye, the colors, and to count from 1 to 10. This was a big challenge for me because this meant that I had to teach English in Italian. It sounds confusing, but the truth is that the only way that they would understand what I was saying was by speaking loud and clear Italian. That day, I counted from 1 to 10 100 times, and then, taught them to count from 11 to 20. It was fantastic watching the progress that we achieved in 1 hour. 
When I took the tram back home, I felt exhausted, but at the same time, I felt accomplished. I knew I had a positive impact on those kids, but most importantly, they had the biggest impact on me. I will remember them forever. I highly recommend taking advantage of this opportunity. It is an experience that makes your study abroad time 100% better!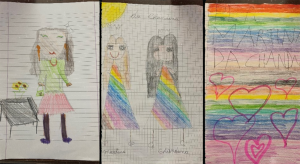 To my little students: Thank you for making this experience unforgettable! You will be forever in my heart.
Martina is a SAI Florence Fall 2022 student from the University of Tampa.