April 12, 2022



We sat down for a virtual interview with Anya Carney, a SAI Spring 2022 student studying in Barcelona at the University Autonoma de Barcelona (UAB), to tell us all about her experience abroad: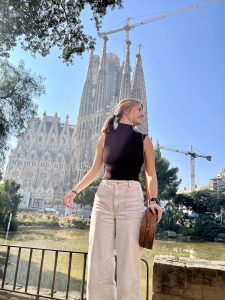 My name is Anya Carney, and I'm from Charleston, SC. I go to the University of South Carolina, and I'm an Economics and Management double major. I wanted to study abroad because I knew that the cultural experience would be helpful in my future and career. I also knew it would be a once in a lifetime opportunity that I just couldn't pass up (spoiler – it was!). 
What made you choose to study abroad in Spain and Barcelona? 
I went into this experience speaking very little Spanish, but I was hopeful that that foundation would help me get around in Spain. I was attracted to Barcelona's location on the water, and everything I heard about the city's energy. Then I learned about UAB's strong reputation, and it felt like the perfect fit. 
What has studying abroad been like?
I was expecting a big culture shock when I arrived, and was prepared to feel overwhelmed and jetlagged. But to be honest, my transition was as smooth as I could have asked for. Everything was very stress-free. It was probably thanks in part to the strong support from SAI, but it also overall just felt like the right fit. That's not to say that everyone will have a similar transition, and if it's hard at first don't worry!
In general, my study abroad experience has been wonderful. I've gotten involved in everything I can, as I want to make the most of this opportunity. I've traveled a bunch. I've made some great friends. It's been non-stop (in a good way)! 
I have a great SAI apartment in a local neighborhood. We have a balcony with beautiful views, from which we can watch the rhythm of the streets throughout the day. All my roommates were randomly assigned (I didn't know them before arriving), and I really lucked out, as I know they are going to be long-term friends.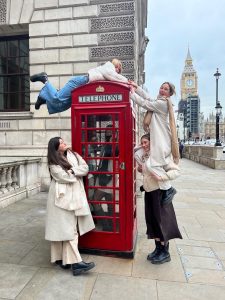 What's been your biggest surprise?
I'd say I was most unprepared for the fact that Catalan is the primary language spoken in Barcelona. Most everyone speaks Spanish as well, so I can get around, but I just didn't realize how strong the Catalan identity is here, it's been a great learning experience. While I wouldn't say I can speak much of any Catalan, I've started to be able to understand some words!
How are your UAB classes?
My classes are great! I'll be able to get credit at my home school for all of them (two Business courses, and two that will transfer back as Carolina Core, or elective courses). My professors do a great job of ensuring balance in our courses; they know we are study abroad students, and are therefore quite flexible, which I definitely appreciate. The learning style is very hands-on, and there is less emphasis on lectures and taking notes, and more on field trips and application of concepts. I also appreciate when my classes incorporate the local perspective into the subjects. 
Tell me about the SAI International Service Certificate you're working on
Our SAI program leaders presented the SAI Service Certificate at orientation. I was interested, but I wasn't sure I would be able to take it on, so I waited a bit to settle into my life and courses until I decided it was definitely something I wanted to do. As part of the Service Certificate I'm volunteer teaching English at a local primary school. I volunteer for 1.5 hours on Tuesdays, so it's a manageable commitment. It's been an absolutely great way to deepen my cultural immersion, and to feel like I'm giving back to the community that has welcomed me abroad. 
I'm volunteering in a school that is in a mainly immigrant neighborhood, so I'm in a classroom with youth from the Middle East, Asia, and throughout Europe. Most of the children speak Spanish, Catalan, and their native language, making English their fourth language! In the classroom I help the teacher in implementing the curriculum. I come up with fun activities, and do a lot of speaking activities so students can hear native English. The children love to hear about my life in the US, and they ask me all sorts of questions about it. It's going to be a hard thing to leave; I've made some deep connections with some students. I've also really enjoyed getting to know the teachers at the school, it's been a great way for me to get to know locals.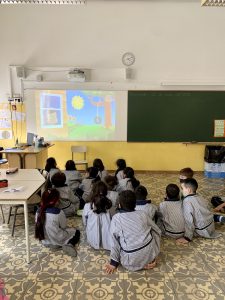 It sounds like you've been busy abroad, is there anything else you've been involved in?
Well I've also tried to attend as many of the SAI activities as possible. They're all included in our program, and they've allowed me to see and experience things that I'm positive I would not have been able to otherwise. My favorite activity was a trip to Montserrat, which is a stunning mountain with a monastery. We took a hike and enjoyed the best cheese and bread of my life. It was so unique. I've also loved all the cultural workshops, like a pottery course and paella making course. 
Another activity I've loved is a soccer league that I joined. I'm on the SAI team, and we play other study abroad groups in Barcelona. It's been a great time, and a fun way to keep active abroad (as if all the walking isn't enough!)
The SAI activities have also been a good way to get to know the SAI staff, and I've loved all their recommendations and assistance this semester. 
Any final thoughts? What would you say to a student who is considering studying abroad?
I really had no idea what to expect from this experience. I had not really traveled to Europe before, so I went into it with very few expectations. I think this worked out in my favor, I was just completely open to whatever was going to happen. I have grown so much, both personally and academically. If you're considering studying abroad, definitely do it! I do believe that you get out as much as you put into it. So I say go, give it your best shot, do all the things that inspire you, and make the best of it. It'll be the best decision you've ever made.