April 27, 2017



SAI is pleased to announce a new culinary arts program at CETT in Barcelona. The semester program at CETT, entitled Food Culture and Culinary Arts in the Mediterranean, is the first of its kind in Spain, offering an English language culinary program geared toward international students. Inspired by the Bachelor's Degree in Culinary and Gastronomic Sciences, students in this program deepen their understanding of food as art and explore the profound role food plays as an expression of culture. The program is open to students pursuing a degree in culinary arts as well as those pursuing degrees in the social sciences and business.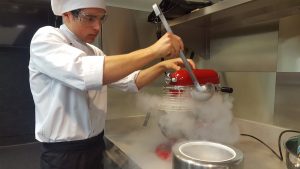 The hands-on approach of this program allows students to develop their technical cooking skills in newly renovated state-of-the-art facilities. Students in the program have free access to the GastroLab, open to all students to experiment and continue learning beyond the classroom. In addition to hands-on, or applied courses, students explore the intersection of food, culture, business and tourism in theoretical courses. Courses include lectures by professionals in the field, as well as site visits in the city.
Program Objectives
Prepare students to adapt to market demands through new methods of catering, originality, quality, and rapid adaptation of culinary trends.
Provide students with knowledge of international gastronomic culture, with special emphasis on gastronomy and the particular techniques of the Mediterranean.
Provide students with a solid theoretical foundation that complements the acquired practical skills.
Broaden knowledge of international gastronomic culture through history and essential elements.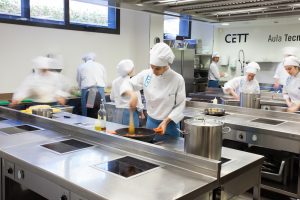 SAI is offering the Food Culture and Culinary Arts in the Mediterranean semester program at CETT starting in Fall 2017. Courses available include Culinary Techniques and Processes, Production and Tasting of Beverages, Traditional Cuisine: From Local to Global, and Tourism, Gastronomy and Communication.
If you have any questions please contact us.