April 19, 2017



Aside from being a student in Siena, I am also an English teacher. I work at an elementary school inside the city walls and teach English to a class of 4th graders as a part of my weekly service work for Siena Italian Studies. I began my teaching experience with a little apprehension. Although I love kids, I have no background in teaching or in the other skills that go along with teaching, like controlling a classroom, engaging the students etc.

I was also simultaneously working on a performance event for a group called REPCAM. This organization raises money for Cameroonian children. The event team, including myself, thought we would raise money for REPCAM by bringing together multiple communities in Siena. Our goal was to share a multicultural night of universal performances, art, music and dance at a local restaurant.

I proposed to (and ultimately got permission to) have my fourth grade students perform for the event because what better a generation to raise money for children than children themselves.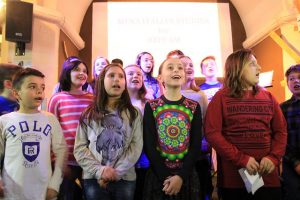 The REPCAM event ended up being everything we hoped it would be and more. When the students arrived at La Diana, the restaurant where we held the event, I was filled with pride and joy. I could not wait for everyone to see all they had accomplished. Learning two songs in English is extremely difficult, especially when you are only in fourth grade and you are just beginning your study of the English language. They performed "We are the world" and "Imagine" since both these songs were very suiting for the nature of the event. The students were accompanied to the event by not just their parents, but also their grandparents, friends and siblings. It was a humbling experience to communicate with the Sienese families and have them refer to me as "il famoso Coco." I hadn't realized it before this moment, but I had really organized something unique. Here is the speech (in Italian and translated in English) which I read before they performed, and I think it encapsulates exactly what these students meant to me and to the event:
"I nostri prossimi artisti sono la mia classe di 4° elementare della scuola Duprè. Questi ragazzi sono stati una luce nella mia vita. Ogni Mercoledì pomeriggio da quando sono arrivata qui a Siena, ho provato una gioia inestimabile. Questi ragazzi sono un gruppo speciale. Si impegnano con attenzione, partecipazione e buona volontà. Sono qui questa sera perché vogliono aiutare i bambini del Camerun. Se il resto della loro generazione sarà così speciale come sono questi bambini, penso che il mondo avrà un bel futuro. È per questo che siamo qui, non è vero? Per ispirare, per stare insieme e per contribuire a coltivare un luminoso futuro, bello per ogni singola persona su questo pianeta. Ascoltate il loro messaggio e guardate la luce dei loro occhi.
(Our next performers are my 4th grade class from Dupre Elementary School. These kids have been a light in my life. Every Wednesday afternoon since I arrived here in Siena, I have felt a priceless joy. These kids are a special group. They care, they participate, they try. They are here tonight because they want to help the children of Cameroon. If the rest of their generation is even close to as special as these children are, I think the world is in for a beautiful future. That is why we are here, isn't it? To inspire, to come together and to help cultivate a bright, beautiful future for every single person on this planet. Listen to their message and see it in the glimmer of their eyes.)"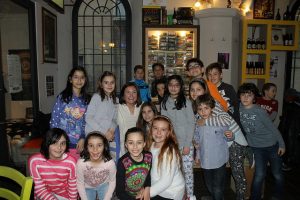 It is unimportant how much you give, but instead how much love you put into what you give. I learned that there is an indescribable joy in teaching, especially a discourse that you are passionate about. The REPCAM event was a huge success. It brought together communities that unfortunately do not always mingle amongst one another. By the end of the night, these co-existing communities were joined together through music, love, and the power of unity.
—
Coco is a SAI Siena student from Muhlenberg College for spring 2017.