May 15, 2023



TRAVEL TIPS – Travel Like a Florentine

Trains

Use the Trenitalia (government run) or Italo (Privately run) apps to look at train tickets! Super easy but make sure to book far in advance to avoid a steep increase in prices.

Flights

Fly like a local out of Pisa or Bologna! You'll come to find that mostflights out of Florence tend to be very expensive/with layovers. Most florentines tend to take the train to Pisa (18 euros round trip) then the Pisamover to the airport (5 euros each way) for a cheaper and easier trip!

Study locations

Biblioteca della oblate
While many coffeeshops in Florence are amazing to study, I find that they can become packed/filled with many tourists. This library is in an amazing location and offers beautiful views of the duomo from the rooftop.
I find more locals here with a less touristy feel!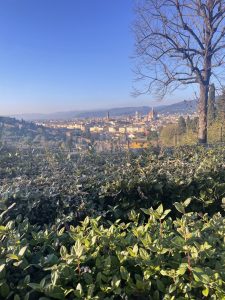 Local markets !!
Sant'ambrogio Market – Monday -Saturday from 7am-2pm
This local market sells anything from fresh produce to clothing;) great place to check out that is more local feeling than the Mercato Centrale
Oltrarno Arts and Crafts – Santo Spirito Square – Every second Sunday from 9am-7pm
Great vintage and thrifting market to see in the Santo Spirito square! Tons of locals out enjoying great restaurants as well and a great escape from the super touristy parts of the city
The Cascine Market – Viale Lincoln, Cascine park @ 7am – 2pm on Tuesdays
Tons of food stands and clothing being sold here! The streets are usually filled with people shopping:) great way to get a more local shopping experience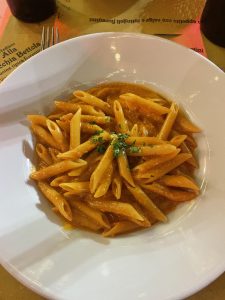 Favorite Local Bites
Alla Vecchia Bettola – the BEST vodka pasta you'll ever taste
Pino's – better alternative to the busy All'Antico
Outside time as a local :)
The Cascine Park
One of my favorite places to run or go for a walk! It is right along the river and gives you a taste of nature and serenity
Hiking
If you find yourself in Florence for a sunny weekend, I HIGHLY recommend checking out all trails for a tuscan hike. This is by far one of my most favorite activities. I got to explore the countryside and finish by the Santo Spirito quarter.
Written by: Caroline Daggett, Spring 2023 Florence student, from Miami University