September 19, 2016



From the moment I left the airport, I knew that the next four months were going to be full of many first foreign adventures for me. Going to Europe was the first foreign step I was taking. There were so many emotions that I was feeling as I stepped on the plane from Boston to Zurich, Switzerland and then to Florence, Italy. I was scared, nervous, questioning my choice, wondering what the next couple months were going to be like, but most of all I was beyond excited for my journey. It was the start of a new chapter in my life.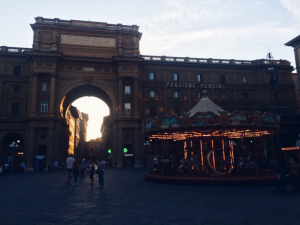 When I stepped off the plane I wasn't really sure how I was going to get to my apartment, where my apartment was, or if I was going to be able to get into my apartment. SAI did a perfect job of answering all my questions for me. When I got off the plane and got my luggage there were multiple SAI people by the door welcoming us to Florence. They already had cabs waiting to take us to our apartments. My first impression while driving to the apartment were the hundreds of people driving Vespas. They were driving all over the place, in between cars, cutting taxis off, and looked like they were close to hitting multiple pedestrians. My apartment was located on an adorable street that I knew would feel like home soon.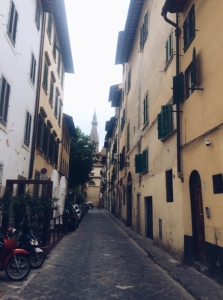 The first week was very difficult for me to find my way around the city. Everything was new and beautiful. I was like a kid in a toy store, looking at everything, wanting every piece of food I saw. I didn't have an international plan for data so the only source I had for maps or directions was a paper map and my memory.  I definitely got lost multiple times during the first week (and even the second week) but the more I walked around, the more I understood the city and my way around.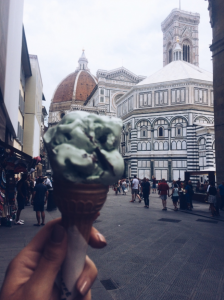 There were and still are so many things that I'm learning about Italy and Florence specifically. There are many things that Italy and the United States have in common, but there are also things that are very different. I learned the second day that it is very easy to blow a fuse in Florence. I learned that there isn't any ranch dressing here. Most Italian dishes either come with pasta or meat, it's not very common to have both.  The whole restaurant experience is very long; there aren't many places to get a quick bite. The waiters are always trying to get you to get more; more wine, coffee, food, dessert, or bread. Trying to get the check for your meal is very difficult; you have to hope that you make eye contact with the waiter to say that you are all done. Checks also aren't ever split here, and most people only accept cash. The sidewalks are busy and Florence is like no other city I've ever been to. The first weeks have been filled with more gelato, pizza, and memories that I could ask for. It's only the start of my journey and I'm more than excited for what the next couple weeks brings me.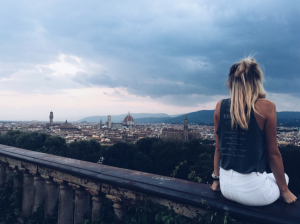 ___
Emily is a current student at Lasell College studying at Florence University of the Arts, Italy during the Fall 2016 term.