October 17, 2016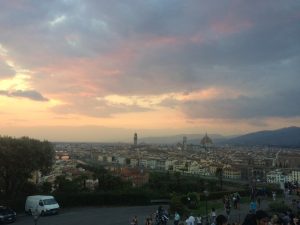 1. Enjoy wine and watch the sunset at Piazzale Michelangelo. It is very touristy so my recommendation is to get there early (before the sun sets) to get a good seat.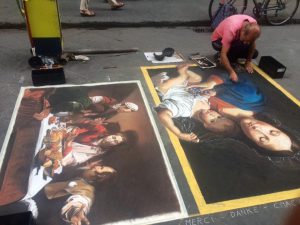 2. Shop and watch local street entertainment at the Piazza della Repubblica. Enjoy shops from fast fashion stores like Zara to luxury shops like Gucci. There are some of the best places to enjoy dinner with an amazing view. There is also a beautiful carousel in the middle of the piazza.
3. Enjoy a crepe with nutella and strawberries with gelato at Amal. Everyday they have different kinds of gelato depending on what they make that day. If you aren't in the mood for a crepe they have amazing waffles that are just as good.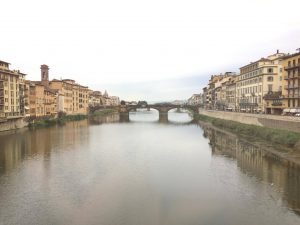 4. Walk the Ponte Vecchio and enjoy the beautiful view of the river. Shop along the Ponte Vecchio and enjoy the amazing jewelry.
5. Enjoy the beast heart shaped pizza at Gusta Pizza. Right across the river is the best pizza in Florence, for the best price as well. Grab your pizza and watch the sunset by the river.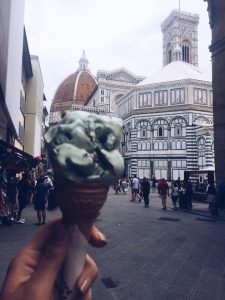 6. Enjoy gelato at Edoardo's at the Duomo. The mint chocolate is delicious!
7. Enjoy the art museums like Gucci, Feragamo, and Accademia Gallery.
8. Enjoy wine tasting near the Duomo.
9. Have a coffee and enjoy the view of Florence at the cafe La Terrazza. The café has one of the best views overlooking Florence and the Duomo.
If you are ever missing home, here are some places that you can get food as close to American but still in Italy.
La Vespa: This café is known for its amazing potatoes, they serve an amazing breakfast and a better lunch. This place has the best ice coffee that I've had in Florence. They also have wifi which makes it a great place to study.
Shake Café: If you are looking for smoothies, healthy wraps, and vegan food this is the place. They also have amazing ice coffee and their chicken Cesar wraps have chunks of the freshest Parmesan cheese.
The Diner: If you are ever craving a milkshake this is the place to go! They have some of the best burgers, pulled pork sandwiches, and chicken. They serve breakfast all day and have some of the best pancakes. If you have been missing Ranch dressing this place has it!
___
Emily is a current student at Lasell College studying at Florence University of the Arts, Italy during the Fall 2016 term.