September 29, 2016



Milan offers more than fashion shows and design fairs. Beyond fashion weeks and design week, Milan offers a myriad of 'secret locations' and activities to inspire any creative. Below are four of our favorite, but you can discover more on the SAI Milan blog.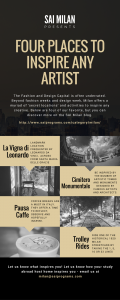 La Vigna di Leonardo: Landmark location frequented by Leonardo da Vinci, across from Santa Maria delle Grazie.
Cimitero Monumentale: Be inspired by the number of artistic tombs and monuments designed by famous artists and architects.
Pausa Caffe: Coffee breaks are a must in Italy. They offer a time to reflect, observe and hopefully inspire.
Trolley Rides: Ride one of the historical 1920 Milan streetcars by taking the 1, 5, 10 or 33 lines.
Let us know how your study abroad host home inspires you! – email us at milan@saiprograms.com.