May 27, 2020



This is a Tuscan favorite we never tire of – especially for its spicy kick! This week's "Le Ricette di GG" feature is a Spaghetti alla Carrettiera recipe, a staple of Florentine families and restaurants alike. At first bite, you might feel momentarily transported to a ristorante in centro!

This may also whet your appetite to explore our Culinary Arts Career Certificate program through Florence University of the Arts. SAI offers a variety of career certificates in fields such as Hospitality Management, Wine Studies and Enology, and Tourism and Event Management. Set yourself apart with a Career Certificate from FUA! Check out our blog "How to Expand Career Options with a Career Certificate?"

Buon Appetito!
Spaghetti alla Carrettiera
Serves 4
Ingredients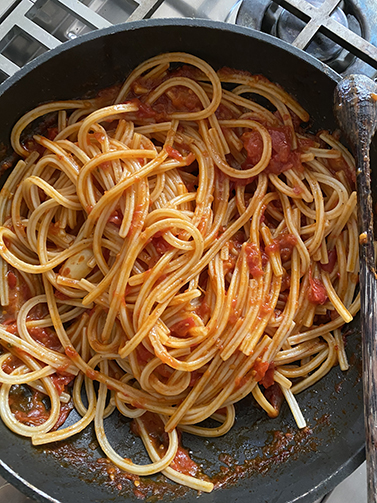 12 oz spaghetti
1 lb of canned tomatoes, peeled (Pachino type preferable)
1 garlic cloves
3 tablespoons of extra virgin olive oil
1 chili pepper
salt
pepper
1 tablespoon of minced parsley
Gently sauté the garlic and chili pepper in the extra virgin olive oil. Salt, pepper, and add the tomatoes, using a wooden spoon or spatula to break them up. Cook until the water has evaporated from the tomatoes. Stir occasionally. Cook the pasta in boiling and salted water. Drain the pasta and add to the pan with the tomato sauce. Toss at low heat, add the parsley, stir for 2 minutes and serve hot.
---
Gabriella Ganugi is an architect and the founder of Florence University of the Arts – The American University of Florence, which includes the Apicius School of Culinary and Hospitality Studies. Gabriella is the recipient of the 2010 AIAE Association of Italian American Educators "Educator of the Year" award and the Florence Chamber of Commerce award for extraordinary female entrepreneurs. She also received in 2012 special recognition from the University of South Florida – the USF President's Global Leadership award – for her efforts in cultural and international crossovers in education. Her memoir, "The Girl Who Counted Ants: Meditation in the Kitchen" published by Ugo Mursia Editore in Italy, recounts the story of a young Tuscan girl who grew up to make an impact on international education. She lives in Florence and New York City.