May 27, 2020



This week from "Le Ricette di GG" we are taking on an Italian classic: Eggplant Parm. There is an age-old debate over whether it's better to dredge or fry the eggplant. Our version calls for grilling the eggplant at high heat, which can also be done the evening prior. This maintains all the flavor without frying!

At Florence University of the Arts, SAI offers Career Certificates in up-and-coming fields such as Culinary Arts and Photography / Digital Media. The Certificate Programs offer students the unique opportunity to develop professional skills in a global context. For a taste of the programs we offer, head over to "How to Expand Career Options with a Career Certificate?"

Buon Appetito!
Parmigiana di melanzane
Serves 4
Ingredients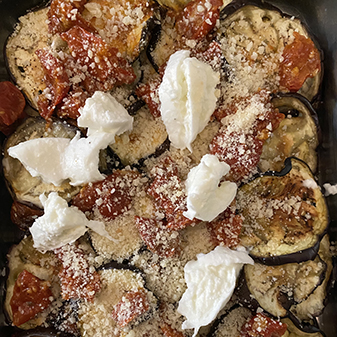 3 large eggplants sliced into thin rounds salt pepper
1 garlic clove extra virgin olive oil
1 lb peeled whole tomatoes, cubed
1 small bunch of basil
minced parsley
1 mozzarella, cubed
 (wring and dry to remove excess water)
2 1⁄2 oz grated parmesan
1 chili pepper
Sauce: Brown the garlic and chili pepper in 2 tbsp of olive oil. Add the tomatoes, salt, and pepper, cook for 15 minutes.
In the meantime, prepare the eggplants. Preheat the oven to 450° F. Sprinkle olive oil and season lightly with salt and pepper. Grill the eggplants in batches until softened and lightly charred, about 4 minutes (depends on the oven). Grease a baking dish with olive oil and spread a little sauce on the bottom. Then make layers starting with the grilled eggplant – top with sauce, mozzarella cheese, basil, and a sprinkle of parmesan cheese. Continue for another 3-4 layers. For the last layer top only with parmesan cheese and basil. Bake at 360°F for about 20-25 minutes, then let sit 10 minutes before serving.
---
Gabriella Ganugi is an architect and the founder of Florence University of the Arts – The American University of Florence, which includes the Apicius School of Culinary and Hospitality Studies. Gabriella is the recipient of the 2010 AIAE Association of Italian American Educators "Educator of the Year" award and the Florence Chamber of Commerce award for extraordinary female entrepreneurs. She also received in 2012 special recognition from the University of South Florida – the USF President's Global Leadership award – for her efforts in cultural and international crossovers in education. Her memoir, "The Girl Who Counted Ants: Meditation in the Kitchen" published by Ugo Mursia Editore in Italy, recounts the story of a young Tuscan girl who grew up to make an impact on international education. She lives in Florence and New York City.