November 15, 2017



In celebration of International Education Week, I wanted to highlight how studying abroad can affect you even after you leave. After studying abroad last fall, my first instinct when I got home was to look at graduate schools abroad. I was infatuated with the idea of living in Europe again, and I had to know more about it. To my benefit, a friend of mine, Mariam Azimi, an alum of both SAI and George Washington University, had decided to complete her Master's abroad in Milan. She was extremely helpful the whole time I was abroad, and even more helpful talking with me about my options abroad post-graduation. So who better to interview for International Education Week!

A year later, Mariam has completed her degree in Milan, and I immediately thought her story would be a perfect fit. I was able to ask her a few questions about the impact of International Education on her goals and what it's like to get a Master's abroad. Check it out below!

When and where did you study abroad with SAI?

I️ studied abroad in Florence, Italy the fall of 2015.

What made you want to study abroad in the first place?

I️ lived in Maryland my whole life and although I was always very comfortable here, I needed a change of pace. I started looking into study abroad programs and saw a picture of Piazza Signoria in Florence. I still can't describe that feeling, but in that moment, I knew that Italy was for me.  

After you graduated college, what options were you weighing? Where did you decide to go?

After graduating college, I continued my internship with the Washington Diplomat newspaper in DC, where I hoped to work or at least make connections to lead to another job. I really enjoyed the international atmosphere and high-end clientele I worked with, but I found myself dreaming of returning to Italy, so I looked into masters programs. I discovered a communications and branding program at the Polytechnic University of Milan and felt it was a perfect addition to my experiences in journalism and international affairs.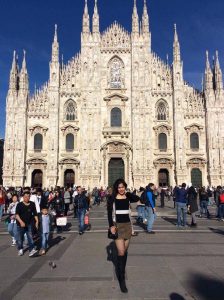 What made you want to go to grad school abroad?
I decided to go to grad school because I wanted to sharpen my skills, market myself better in the communications industry and have an international edge by going to Milan. Honestly, I've found that a lot of my friends and classmates started working right after college but quickly realized they needed more direction and more education to really excel in their fields. It's been a trend and I'm glad I decided to go back sooner rather than later.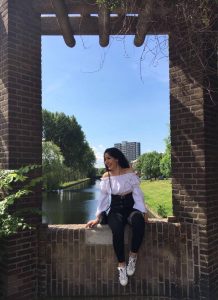 How would you describe your experience in Milan? How did studying abroad in undergrad help you prepare for it?
Milan is a metropolitan, gothic, sleek and sophisticated Italian city. It's very business chic and anyone who wants to become anything in fashion or design in Italy makes a point to spend some time there and taste the culture. It's rough and dirty and the street style is wild. Nothing can prepare you for living in Italy and when you're there, everything else feels different. Your perspective changes.
Studying abroad in Florence helped me prepare how to integrate myself into Italian culture and have a sense of their way of life, but Milan is its own world. It's like comparing LA to DC, they're just worlds apart and nothing can fully prepare you; you just have to go.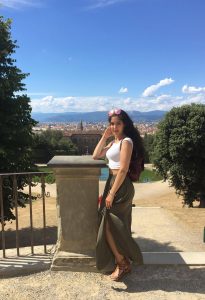 What advice would you give students looking to go to grad school abroad?
My biggest advice is to make sure you understand the job market in the country you're completing your masters in. It makes a world of difference when you finish your coursework and start applying for internships and jobs only to realize your American citizenship can only go so far. It definitely helps to have family connections or a really strong sense of the language.
____
Mariam's second abroad journey sheds a light on the many options available to American students internationally after graduating! So if you're like me and can't stop thinking about going back to being abroad, I hope this post encourages you to think about grad school or even interning in your favorite country!