November 14, 2017



To kick off International Education Week, the Institute of International Education (IIE) released the 2017 Open Doors Report on International Educational Exchange on Monday, November 13, 2017. With an emphasis on the importance of student mobility and global experience in forming prepared citizens, the IIE report offers helpful insight into the trends of incoming and outgoing study abroad students.

This year's Open Doors report study abroad data is provided for the 2015/16 academic year and only counts students who received credit for studying abroad. The study found that, for the 2015/16 year, there was a 3.8% increase in U.S. students studying abroad, with a total of 325,339 students. While this is positive growth, only 1.7% of all U.S. undergraduates studies abroad. Following are some key findings regarding this U.S. study abroad student population.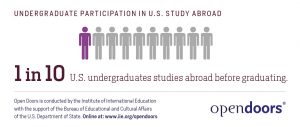 Destinations
Regionally, Europe remains the stronghold in U.S. study abroad destinations, hosting over half (54.4%) of total U.S. study abroad students in the 2015/16 academic year (although it grew at a slower pace than the year prior: 3.5% in 2015/16 vs. 5.3% in 2014/15).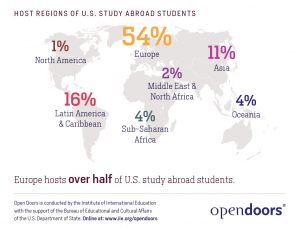 The top destinations remained the United Kingdon (12% of all students, up 2.5%), Italy (10.7% of all students, up 3.3%), and Spain (9.2% of all students, up 5.8%), and France (5.3% of all students). While it held its spot as the fourth most popular, France's popularity saw a -5.4% change in 2015/16 compared to the year prior, most likely due to terrorist activity in the country during the year. Germany jumped into fifth place with 3.7% of all study abroad students, leaving China in sixth place after dropping 8.6% from the year prior at 3.6% of all students.
In Europe, the top growth came from the Netherlands (17.2% change over the year prior), Denmark (14.8% change), and the Czech Republic (12.6% change). Other countries that experienced strong growth are Cuba (58.6% growth over the year prior), Japan (18% change) and New Zealand (14.5% change over the year prior). Sub-Saharan Africa as a region saw a large increase of 19.6% over the year prior, when the region was recovering from the Ebola virus.
The largest decline was in Brazil (-11.4%), where the Zika outbreak is likely to blame. Other declines were identified in China, for the fourth year in a row (-8.6%), India (-5.8% change), and France (-5.4% change).
Areas of Study
The top major areas of study of U.S. study abroad students in the 2015/16 academic year were:
STEM fields: 25.2%
Business & Management: 20.9%
Social Sciences: 17.1%
Foreign Languages & International Studies: 7.4%
Fine & Applied Arts: 6.9%
Communications & Journalism: 5.7%
Both the Science, Technology, Engineering and Math (STEM) and Business and Management fields grew at a faster rate than the overall study abroad growth, with STEM seeing a 9% increase and Business and Management an 8.1% increase. The most popular major within the STEM field was in the health professions, representing 7.1% of all students studying abroad. Foreign Language and International Studies saw a .7% decrease from the year prior.
Program Types
The popularity of program length remained quite similar to the year prior. In 2015/16, 63% of students studied abroad on a short-term program (summer or 8 weeks or less). About 38% of students studied abroad in the summer, and a little over 17% studied abroad for 8 weeks or less during the academic year, with a majority of those lasting less than 2 weeks. The number of students studying abroad on a mid-length program (one semester, or one or two quarters) increased slightly to 34.6%, but it is still down from the highs in the late 2000s.
While the Open Doors findings focus on students who receive academic credit abroad, non-credit abroad experiences (work, intern, and volunteer) were also taken into account. Although this is a much more difficult number to count, 362 institutions reported 23,125 U.S. students completed such programs in 2015/16, with 38% traveling to Latin America and the Caribbean.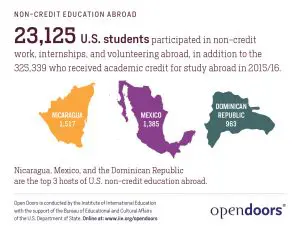 It should be noted that the report does not collect data on Gap Year programs.
Student Profiles
While there was an increase in students who identify themselves as members of minority groups studying abroad in the 2015/16 academic year (28% total), the growth was modest, and the percentage is not representative of the diversity on U.S. college campuses. The largest growth from the year prior came from the Hispanic or Latino(a) population, who represented 9.7% of the study abroad population in 2015/16.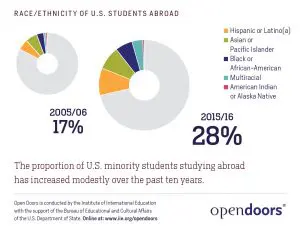 As opposed to the year prior, gender disparity in U.S. study abroad shrunk in the 2015/16 academic year, albeit very little. Women represented 66.5% of total students  (down from 66.6% the year prior), and men represented 33.5% (the first growth since the 2009/2010 academic year.
In 2015/2016, the number of students studying abroad with a disclosed disability increased to 8.8% of students (compared to 5.3% the year prior). Of those students, 34.4% of them had a learning disability.
For more information on Open Doors data please see: www.iie.org/Research-and-Insights/Open-Doors