September 18, 2019



Oh Milano, the city of change and evolution, history and unexpected beauty.

To start off my journey, studying abroad was my first encounter with Europe, more so Italy. Whichever image I had in my mind of what Italy was like, was an understatement to the way it seemed once I moved to the country. Being immersed drastically in the city, although at first a great shock, became the most fulfilling and amazing experience of my life.

Maybe it was the smell of fresh pastries when walking towards the metro in Romolo, or the frothy caffè macchiato's at 8 am, the walks in narrow streets filled with small boutiques and parked Vespas in the sidewalks, or just the sight of energetic and lively people laughing and walking past me, but I fell in love with Milano.

Living in Milano for four months changed me for the better. The experiences I went through, whether obstacles or beautiful moments, made me grow incredibly as a human being. During this time, I matured and got to know myself on a much deeper level than I thought I could. I became more independent, self-sufficient, extroverted, and cultured. Although I met so many wonderful friends that I will cherish for a lifetime, being abroad was a time of a lot of introspection and self-care as well. Those four months were a period of time I took for myself, time away from the known. Long walks became an everyday routine, whether through Parco Sempione or the Giardini Pubblici, the small picturesque streets in Brera or Garibaldi. Walking became a sort of meditation, while I reflected and zoned out to my music.

Now that I have introduced you to some insight into my mind, I should tell you about some of the other aspects that made my experience amazing. I hope that whether you are a new studying abroad student, or just want to visit Milano someday, you will take my personal anecdotes as inspiration.

Daily life as a Milanese student was a different adventure each day. After I was done with classes, I would search in one of my many lists for a cafe, museum, park or spot to visit, and whether by myself or with a friend, I would head there. Doing this led me to eat some of the cities best desserts, find hidden gardens amongst the busy streets, enjoy some of the best cappuccinos and gelatos, or visit the greatest galleries in old studios and apartments. A couple of nights a week you could find me in an aperitivo, whether in a rooftop or small restaurant in Moscova or Navigli as well as trying a new dish in a trattoria.

Art and culture were some of the most mesmerizing aspects of Italy. Everywhere you went was practically breathtaking, and somehow ended up being historical. Never up to my 21 years had I ever been to so many museums, expositions or simply learned about culture in all of its aspects. Visiting the Duomo, Castello Sforzesco, Michelangelo's last Pietà, The Last Supper, the many Casa Museo's and even Banksy's Visual Protest exhibit where some of the many artistic experiences I got to visit in Milan. Aside from this, during my classes I learned about the history and constant evolution of the city, from the many times it was reconstructed and improved, to the Duomo being six centuries old.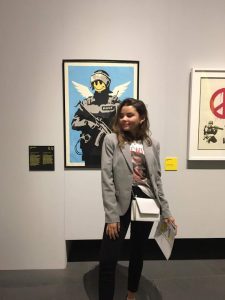 Going hand in hand with art and culture, came traveling within Europe, one of the aspects I believe to be most essential while traveling abroad. Whether it was a solo day trip to Verona or a two-week road trip through Spain, I was lucky enough to be able to travel to 5 countries and over 17 cities. I set as one of my goals, to travel the most I could through Italy, and honestly, it was one of the best journeys I undertook. Turin, Rome, Verona, Venezia, the Amalfi Coast and Lago di Como were some of the many cities I got to see, each one with its own charm and personality. I will never forget the number of emotions I felt while visiting the Vatican museums or how proud I felt while walking towards the top of Castel San Pietro, the enchanting and fairytale-like views in Granada, the coolest spots I visited in London, and the limoncello's I drank in Positano.
I hope that my experience means something to as you are reading this. Whether as inspiration for your next trip Milan, an incentive to study abroad, or just to bring up those memories and nostalgia of that trip you really loved.
Regina was a Spring 2019 Milan student from The University of Tampa.