May 12, 2023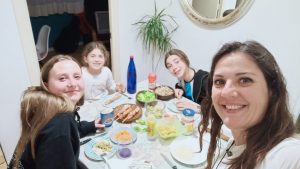 My name is Annabelle, I was studying in Barcelona at Elisava during this spring semester (2023). In Barcelona, I lived with three girls, two from the United States and one from Puerto Rico, in a two bedroom apartment. This felt comfortable and familiar which helped me to adjust to my new life in a foreign country. However, once I got settled I felt like something was missing. I came to Barcelona to work on my Spanish minor and experience a new culture. Of course I was getting these experiences when I was out and about but I was searching for a more personal connection.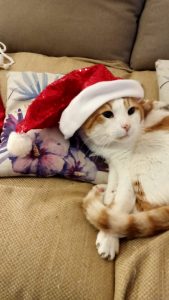 This led me to sign up for SAI's "My Local Family" program, which I learned about from our orientation when we arrived in January. After expressing interest, I was assigned with an adorable family of two little girls, Gala and Julieta, their mother, Laura, and of course their cat, Ziggy. Going into it I was extremely nervous because speaking Spanish was proving to be more difficult than I thought and I have no experience with kids, as I am an only child. I first met them in the SAI office and we were all a bit nervous but I could see how excited we all were to get to know one another. The agreement was that I would play with the kids for a while and in return, I would get to eat dinner with the family. Each time I came to their apartment, the girls were ready for me to play board games, hide and seek or barbies. I thought it would be difficult to play with them when I couldn't communicate but they were so sweet and understanding. We would teach each other words in English and Spanish or just start making noises and movements to communicate instead. All of my anxiety about being with this family left the second I got inside. I learned that it doesn't matter that you speak full sentences or know how to communicate perfectly because we are all learning together.
Laura opened her home to me, even with their busy schedules and welcomed me with open arms. They created a safe space for me to learn about their life. They taught me about traditions during easter time, their families recipes, and how their life works in Spain. This first hand experience, and seeing how people thrive in Barcelona was so heartwarming. Due to scheduling issues, I did not get to see them as much as I would've liked but they really made my time in Spain so special and made leaving even more difficult. The biggest lesson I have taken from my semester in Barcelona is: it's okay to be nervous and make mistakes, that's where growth comes. I was so nervous to put myself in a new and uncomfortable situation, but it turned out better than I could've ever expected. Laura, Julieta and Gala were the most kind, understanding and sweet family and I feel so lucky to have gotten to grow with them.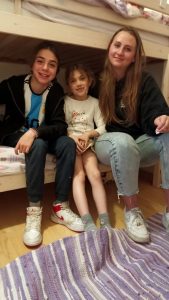 For anyone who is considering doing this exchange or something similar while abroad: I highly recommend this program. It can be scary to put yourself out there but being open to new experiences is an amazing way to emerge into a new culture. Go into the experience with an open mind and willingness to learn new things. I learned so much not only about this family and culture but also about myself. I am so thankful I pushed myself to sign up for this exchange and I hope others will push themselves to do the same.
Written by: Annabelle Bradford, a Spring 2023 Barcelona student from Colorado State University.