April 16, 2019



It's hard to believe it has been over seventy days since I left everything and everyone I know for the adventure of a lifetime. It's been a whirlwind from the start. I've had good days and bad days, just as I've had good food, and not so great food—at least to me. However, it is extremely difficult to find food you won't like. It's a very very rare occurrence, making it incredibly hard to narrow down my favorite restaurants in Florence but here they are (in no particular order):

1. All' Antico Vinaio
When I first arrived in Florence, I was bombarded with "you haaave to try ______" on the daily. Two of my roommates went before I did, when they returned they told me all about "the best panini" they had ever had—and then they mentioned how long they waited in line. I wont tell you how long because it'll turn you off a little bit, but it's worth the wait. I'll leave it at that. Once I tried it for myself, I was in awe because that was "the best panini I had ever had". My favorite part? Aside from the delicious panini? It's only €5!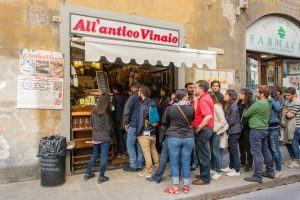 2. Tratorria Za Za
Za Za has become a popular restaurant choice among my roommates and I ever since we got here. It is within a very short walking distance from our apartment near Santa Maria Novella, but everything is a short walking distance in Florence so who am I kidding? I always opt for the ravioli fettuccine!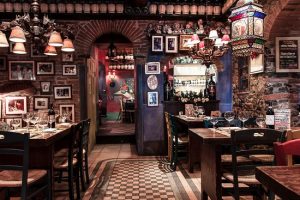 3. Le Vespe Café
If you're a breakfast lover like I am, I'll save you some misery in trying to hunt a breakfast place that feels like back home. Le Vespe Café is very quaint with a boho style and delicious food—also one of the only places I have found in Florence that serves Chai Lattes! Their menu is very vast with both vegetarian and vegan options!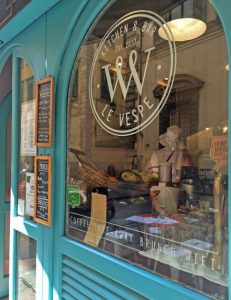 4. Edoardo II Gelato Biologico
Living in Florence, you're going to have gelato for dinner at least once or twice. My roommate MacKenzie and I did it two nights… in a row. Whoops. Edoardo's is a must while in Florence! In my opinion, their homemade cones and authentic gelato can't be beat! As a lavender aficionada, anything lavender catches my attention and Edoardo serves quite possibly the greatest invention in the world: Lavender and honey gelato. I don't need to say anything other than, just try it. Buuut if you're not a fan of lavender, they offer a variety of very unique gelato flavors, which I'm sure are delicious but I only ever have the lavender and honey.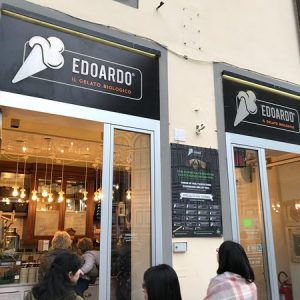 5. Panini Toscani
I like my paninis okay. I pass by Panini Toscani nearly everyday while I'm out and about, however every single time I pass by, there is a line out the door for miles it seems. Me being the impatient monster I am, never hop in line. I did however think "if it has a line out the door everyday those must be some amazing paninis"… But then on my way home from the SAI office on a Friday afternoon, low and behold: no line! I took it as my opportunity and really discovered why the line is so long all the time! I will most definitely stand in line now. I would highly recommend this to anyone and everyone! My experience there was awesome, you will be asked if you have ever been in before–and if you haven't you're in for a treat! You get to try their different variations of cheese and deli meats to put in your panini! Once you decide which you like best, you can add different toppings catered to your taste buds! It is then toasted and ready for your savory satisfaction!