June 3, 2021



Worldwide Vegetarian Ramen

This recipe from Apicius chef students and faculty puts a spin on Japanese ramen by adding vegetables from around the world. Flavors include a dash of tom kha phak, anise, kaffir leaves, and galangal for a truly global dish.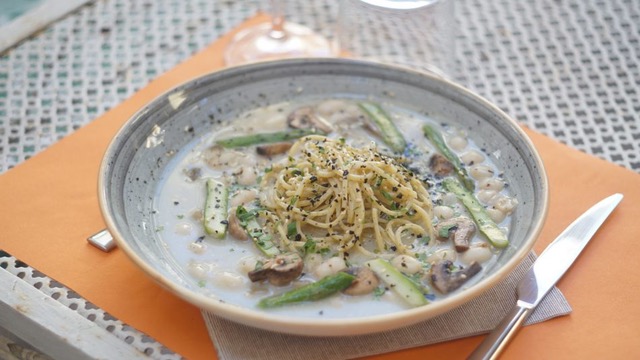 INGREDIENTS 
Vegetable stock:
200 gr champignon mushrooms
250 gr carrot
200 gr blonde onion
250 gr leek
150 gr celery
250 gr fennel
100 gr celeriac
4 lt water
Aromas:
2 lemongrass stalks
50 gr fresh ginger
2 garlic cloves
5 gr black peppercorns
8 basil leaves
3 coriander stalks
6 kaffir lime leaves
2 star anise
1 tbsp coarse salt
Tom Kha Phak:
Yield 3 lt
2,5 lt vegetable stock
4 lemongrass stalks
5 kaffir lime leaves
50 gr galangal
1/2 chili pepper
40 cl coconut milk
10 gr horseradish
10 asparagus stalks – the hard part
10 sprigs of fresh thyme
Ramen:
Veg Tom Kha Phak (see recipe) + thickened with 0,1% xanthan gum
Asparagus tips, Sunchoke
Mushrooms, White beans
Sichuan pepper
Sesame seeds
Parsley, whole leaves
Nori seaweed, powdered
Homemade "guitar tagliolini"(semola+buckwheat flour+eggs)
METHOD 
Aroma:
In a large pot heat some olive oil and add all the aromas and the chopped vegetables.
Cook for 5 minutes,cover with water and bring to the boil.
Reduce heat and simmer on low heat for 1.5 hours.
Let rest 30 minutes, strain and set aside.
Tom Kha Phak:
Heat the vegetable stock.
Chop lemongrass and lime leaves.
Slice galangal and remove chilli seeds.
Chop the hard part of the asparagus stalks.
Add these ingredients to the veg stock and cook for 10 minutes.
Add horseradish and coconut milk to the stock and bring to the boil then reduce and simmer for 10 minutes.Strain and infuse the thyme for 10 minutes.
Strain again and thicken with xanthan gum.
Ramen:
Soak asparagus for 5 seconds – cool down immediately.
Peel and chop sunchoke and cook in olive oil, garlic, butter and thyme.
Quarter the mushrooms and sauté in oil and garlic.
Cook white beans and salt. Toast Sichuan pepper and grind with the mortar.
Heat the tom kha kai in a small pot.
In a pan reheat asparagus, sunchoke, mushrooms.
Warm the beans and boil the guitar tagliolini in salted water.
Pour the stock in a pasta bowl and arrange the pasta in the stock.
Garnish with vegetables and beans and a pinch of Sichuan pepper.
Decorate with sesame seeds, parsley and nori powder.
You are now ready to enjoy your worldwide ramen. While this recipe uses mostly Asian flavors you can also give it your own spin by using South American or other international flavors as well!