June 17, 2020


Reginette al pesto
This week's recipe "di GG" includes ribbon-shaped pasta and a Genovese delight! Pesto adds not only a tangy bite to this dish – but also a splash of color. Served with potatoes and green beans, this pasta will surely keep the guests around your table happy.
Learn more about culinary arts, wine studies and hospitality by visiting our page "How to Expand Career Options with a Career Certificate?" SAI offers unique career certification and professional opportunities through FUA. These programs not only provide practical and hands-on experience in a global setting, but also competitive edge when exploring career options after the program.
Come sempre – buon appetito!
[Please note: pasta shown in photo is linguine]
Serves 4
Ingredients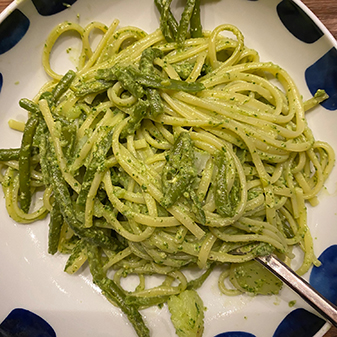 13 oz reginette pasta
2 potatoes, chopped into cubes
4 1/2 oz green beans, cleaned and chopped
6 basil leaves per person
1 tbsp pine nuts
3 tbsp grated Parmigiano Reggiano
2 tbsp extra virgin olive oil
2 garlic cloves
salt and pepper
Add the potatoes and green beans to the water for cooking the pasta and bring to a boil. When the water boils, salt and add the pasta. In the meantime, prepare the pesto by combining the basil, pine nuts, Parmigiano Reggiano, garlic, extra virgin olive oil, salt, and pepper in a food processor. Pour the pesto in a bowl large enough to toss the pasta in and add two tbsp of cooking water from the pasta. Drain the pasta, potatoes, and green beans. Add to the pesto and toss well.
---
Gabriella Ganugi is an architect and the founder of Florence University of the Arts – The American University of Florence, which includes the Apicius School of Culinary and Hospitality Studies. Gabriella is the recipient of the 2010 AIAE Association of Italian American Educators "Educator of the Year" award and the Florence Chamber of Commerce award for extraordinary female entrepreneurs. She also received in 2012 special recognition from the University of South Florida – the USF President's Global Leadership award – for her efforts in cultural and international crossovers in education. Her memoir, "The Girl Who Counted Ants: Meditation in the Kitchen" published by Ugo Mursia Editore in Italy, recounts the story of a young Tuscan girl who grew up to make an impact on international education. She lives in Florence and New York City.