July 15, 2020



We have another delicious, homegrown recipe from GG this week! "Dell'orto" translates to "from the vegetable garden" which is perfect for this summery dish. Gather guests around your table to enjoy this simple yet satisfying dinner addition.

If this delightful dish sparks your interest in culinary arts, hospitality or event management, check out our blog about SAI's Career Certification programs. A Career Certificate from our partner FUA is an opportunity for professional and personal growth – and to set yourself apart when applying for jobs.

Buon appetito!
Fagiolini alle verdure dell'orto
Serves 4
Ingredients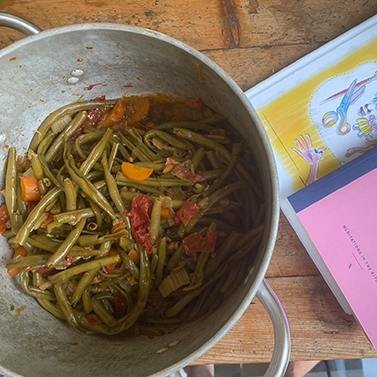 2 lbs string beans
1 onion
1 carrot
1 celery stalk
4 ripe tomatoes
1 tsp finely diced parsley
1 cup of vegetable broth
extra virgin olive oil
salt and pepper
Dice all vegetables except for the string beans into 1/3 inch pieces. Clean the string beans by removing the ends. Put vegetables and string beans in the casserole. Cover the vegetables with 2 parts olive oil and 1 part vegetable broth. Cook slowly on a low flame for about 30-40 minutes with the lid on. Stir every once in a while, with a wooden spoon.
---
Gabriella Ganugi is an architect and the founder of Florence University of the Arts – The American University of Florence, which includes the Apicius School of Culinary and Hospitality Studies. Gabriella is the recipient of the 2010 AIAE Association of Italian American Educators "Educator of the Year" award and the Florence Chamber of Commerce award for extraordinary female entrepreneurs. She also received in 2012 special recognition from the University of South Florida – the USF President's Global Leadership award – for her efforts in cultural and international crossovers in education. Her memoir, "The Girl Who Counted Ants: Meditation in the Kitchen" published by Ugo Mursia Editore in Italy, recounts the story of a young Tuscan girl who grew up to make an impact on international education. She lives in Florence and New York City.