May 13, 2020



As the SAI senior admissions counselor and SAI career certificate specialist, I am here to answer some common questions about the FUA Career Certificate Programs in Florence to help you decide how a career certificate can propel you to a new career or advance in a current one. If you haven't yet read our blog post about the benefits of these programs you can do so here: How to Expand Career Options with a Career Certificate?

Who enrolls in a career certificate program?
Professionals looking for new challenges or a career change
Recent graduates looking to gain additional skills and experience to help them stand out when entering the job market.
Those looking to gain a certification and/or specialization within a specific career, rather than a traditional 4 year degree.
How do I choose the best certificate program for me?
By considering what your career goals will look like after completion of your program. Do you want to become a chef? Perhaps an enologist? Or do you wish to create Florentine inspired fashion designs? Sometimes it is helpful to have a discussion with someone to truly understand the options that fit your plans and ideas, that's where I come in. I'm here to guide you through all aspects of the program from initial interest through enrollment.
Why would I complete a certificate program in Florence, Italy?
Because the areas offered are all ones in which Italy excels internationally, so you're learning from the best. Completing a career certificate program in Florence, Italy will allow you to not only gain skills to further your career, but to expand your cultural awareness and international experience. Each career certificate program incorporates not only lecture and hands-on courses but also experiential learning and projects that allow students to directly apply their knowledge and skills to real-life situations.
Do I have to be a current student or already have a bachelor's degree to apply for a career certificate?
No, you do not need to be a currently enrolled student or a graduate with a degree. These programs are for anyone looking to focus or expand their knowledge within a particular field of interest. You could choose to enroll in a single semester for the experience or multiple 1-year career certificates.
How long does it take to earn a career certificate?
You can complete each 1-year career certificate in 2 semesters that offer 18 credits each term of preset courses and experiential learning. There are four different 1-Year certificates:
Each of the Year 1 programs can then be followed up with a Year 2 certificate that focuses on one of four specializations:
Experienced chefs and those completing the 2-Year certificate can go further with the Year 3 certificates: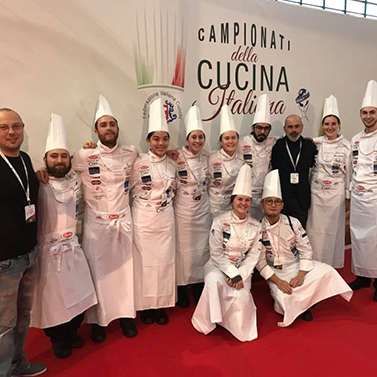 May I use a career certificate to fulfill a degree program?
Yes! While career certificate programs do not issue degrees, if you enroll in a degree program at another institution you can usually transfer the course credits towards the degree you are pursuing.
Do you have any questions, or are you ready to take the next step? Please contact us, we'd be happy to help!