November 15, 2016



Elena studied abroad with SAI during the Spring 2015 semester. She completed one semester at Nuova Accademia di Belle Arti and her whole life path changed.

Looking back on my semester abroad in my undergrad, I am amazed and thankful for where it brought me now. My experience the first time around was everything and more than I expected it to be. Not only did I have a whole new understanding of the fashion world, but I also made lifelong friends and memories along the way. I can honestly say that my 5 months in Italy was one of the happiest and best times of my life. After leaving my semester in Milan, I never thought my path would lead me back two years later for my Master's.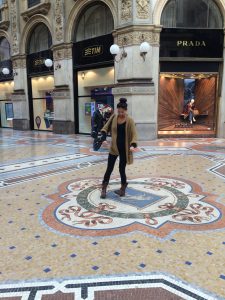 My last semester of my undergrad, I started to look for a way to return to Milan. I researched all options including Master's programs, internships, etc. Ideally, I wanted to do an internship so I could start working right away. Not too long after researching, I found an internship with an Italian luxury brand that would start in June (a month after my graduation) and last for a year. However, with visa complications and miscommunication, the plans fell through and I was very upset and disappointed after having all of my plans in place- flight, accommodation, and health insurance. Even though this was a major setback, it didn't stop me from figuring out another way to go.
I knew that I was interested in doing Public Relations/Event Management so I looked at other programs and schools with a master's course similar. I researched top fashion schools and master's programs in Milan. Keep in mind when I was researching these, I wanted to find a program that started as soon as possible to get myself to Milan since I didn't have any plans anymore. I narrowed my choice down to three schools and eventually chose Istituto Europeo di Design.
My first time studying in Milan was a new way of learning all things Italian including the fashion world. It opened my eyes to what Italian fashion was really like, inside and outside of the classroom. At Nuova Accademia di Belle Arti, rather than learning from notes, tests, and studying, instead I learned from hands-on projects that included observation during fashion week, and street style of the Milanese. At this school, the teachers were also professionals in the industry which was a much better way to learn from people who are teaching what they actually do in their careers. I gained so much more insight than I would have in the states from this way of learning.
When I think back on my sophomore year of undergrad deciding about going abroad, I never in a million years thought that that choice would lead me to where I am now. For those that are considering going abroad for a semester or grad school, one thing I advise is to not worry about what you would be missing out on or leaving behind in the states. This was one thing I took into consideration before my semester abroad. I thought that I would be missing out on another fun-filled college semester with my friends and going out. I was even bummed that I would be missing my 21st birthday in the states because I was going to be in Milan. But during and after my semester, not once did I regret or want to be experiencing anything other than what I already was. Also, being away from those closest to you is not a reason to be hesitant about going across the world. Even before I go for my Master's for a whole year, I know that even though I'll be far in distance doesn't mean I'll be far in heart from my friends and family. Behind the fear and anxiousness, I remind myself that even if I wasn't a 7-hour time difference away, I still would not be in the same city of family or friends because of what I want to do with my life career-wise. Another piece of advice I have is to choose a city, school, and program that align with you. It is important to choose a country that has parts of its culture that you admire, and can relate with. I chose Italy because I love Italian food and prior, I hadn't been yet. I chose Milano specifically because it is a fashion capital of the world and I am studying fashion and what better way to learn fashion than from the stylish Italians themselves. These were two of the main reasons I chose where I decided to go. And after going, I can name a ton more reasons why I want to return.
Now that I'm in the stage in my life where I'm starting my career path, I get asked a lot "What do you want to do after your Master's in Milan?". It's hard for me to tell you what I'm going to do, when I'm still in the present moment forming my path for the future. I wouldn't have been able to tell you two years ago that I would be going back to Milan, so looking into the future a year from now, I won't be able to tell you anything remotely close to what I probably will actually be doing. Since I am interested in Fashion Communications and Styling (My Master's program), I know that with what I want to pursue in my career will most likely be in a big city. So being in New York City currently for my internship before I head to Milan for my master's, I can tell you that I think I will want to return to NYC or stay in Milan depending on the opportunities and doors that will open after. One thing I do know is that the future is uncertain. But behind the uncertainty and fear is a reminder of the feeling and spark that living abroad gave me. And I can't wait to have that feeling back.