October 3, 2017



A year ago, I began my journey with SAI, studying in Florence, Italy at Florence University of the Arts, and a year later, I can say it was one of the best experiences of my life. Before going, I could not imagine how life changing of an experience it would be, and what was in store for me in the beautiful land of Tuscany. However, like most students going off to study abroad, I was terrified. What if I didn't make friends? What if I couldn't adjust to Italian culture? How will I get around without constant cell service? Do I need to speak the language fluently? How do I get a visa? All of these were looming questions in my head for weeks! Luckily, I've come to help any future students out with these questions, with answers from our very own current students, SAI staff, and alumni blog posts. This blog will serve as a one-stop shop for all pressing questions one may have on studying abroad. Below I've picked out a few of my favorite posts that I wish I could've seen before going abroad and narrowed them down into some categories to help out!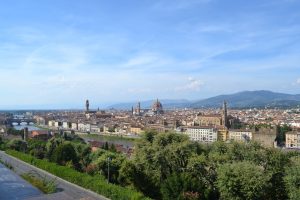 Worried about acclimating to life abroad? Check out these:
Visa Process – what to do:
Thinking about enrolling with SAI? Read below:
Making the most out of your experience! Connecting studying abroad to your career goals:
Want to hear more about people's experiences? Check out these personal stories on life abroad:
—

Lauren was SAI's fall 2017 communications intern. She was a senior at The George Washington University majoring in Psychology and Organizational Sciences. She studied abroad with SAI in Florence, Italy at FUA in the Fall of 2016. Lauren loves to travel and can't wait for her next big adventure!